Legacy: This product is no longer available for sale. These pages about Battery Report remain as a historic reference and are no longer accurate.
Battery Report
Battery Report creates detailed reports about your Mac, its batteries, and uninterruptible power supplies (UPS).
Battery Report reveals information about your power sources that is not commonly available. This information includes power adapter's unique serial numbers, and the health of your internal laptop battery.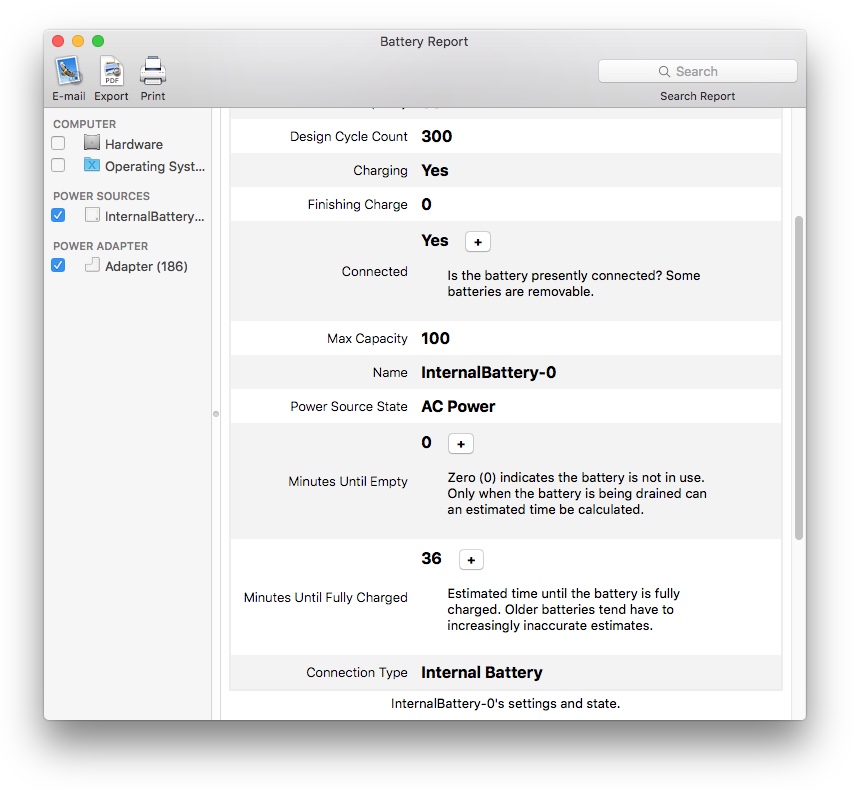 Gain an Expert Insight
Battery Report creates detailed reports about your computer and any connected power sources. Power sources include power adapters that connect your Mac to the mains power, internal batteries such as laptop batteries, and uninterruptible power supplies.
The information available in Battery Report's report varies depending on your Mac and your power sources. Modern batteries tend to include more information about their condition and state. Older batteries will still appear but may not display as much detail.
For Desktop and Laptops Macs
It is not just laptop Macs that have power sources. Desktop Macs can also be connected to multiple power sources in the form of uninterruptible power supplies.
Battery Report includes information about all power sources available to your Mac. For uninterruptible power supplies (UPS) devices, this includes devices connected by a serial cable, USB cable, or over the network. If your UPS is supported by Mac OS X, it will appear in the report.
Live and Updating
As Battery Report runs, its continuously monitors your Mac for changes in connected power sources. Whenever a change occurs, your report is immediately updated. Disconnect or connect your laptop's mains power adapter to watch the report update live. Switch to another power adapter and prepare to be surprised by how much the two adapter's information can differ.
Share with Others
Reports can be quickly and easily shared with others by e-mail. A single click on the E-mail icon will create a new e-mail and attach a PDF copy of your report, all ready for you to address and send.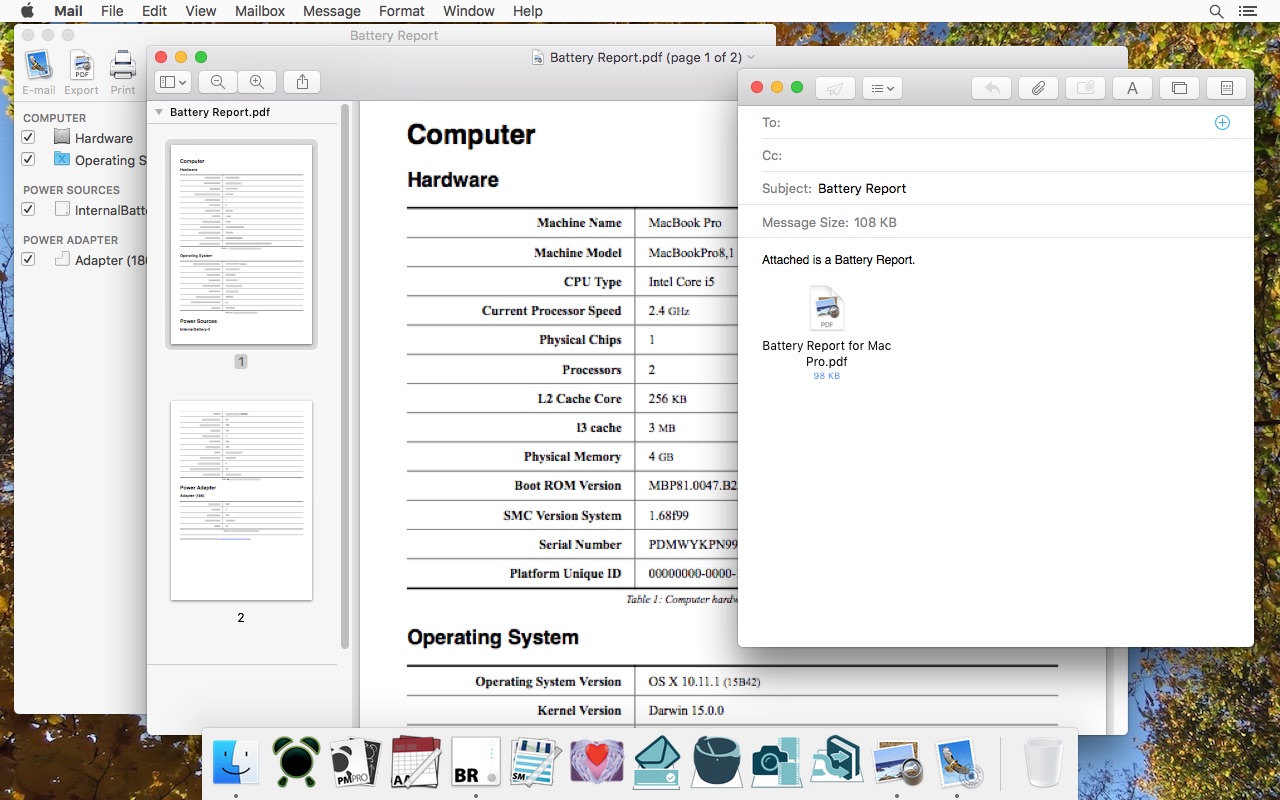 One click e-mailing is ideal for sending to Mac repair and support staff. The report includes detailed information to help diagnose battery problems.
Reports can be saved as PDF documents. Keeping a report as a record of your Mac's configuration, unique serial numbers, and battery serial numbers is good practice. If your Mac is stolen, the information in this report can help uniquely identify your Mac.
A Valuable Insight
Battery Report is a quick, easy, and inexpensive way to gain a valuable insight into the state of your Mac's battery and power sources.