Energy Schedule 1.0.1 released
Today we launched Energy Schedule 1.0.1. It is available to download immediately.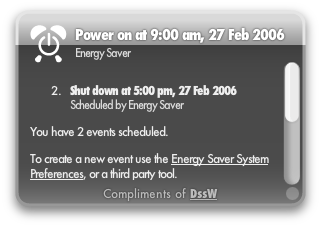 Energy Schedule 1.0.1 is a free Dashboard Widget that reveals your Mac's queued power events. Software applications use power events to aid automation and schedule changes in the computer's power state, such as waking from sleep or switching off.
Energy Schedule is a great tool for tracking which applications are scheduling what events on your Mac.
I recommend downloading Energy Schedule today, and having some fun scheduling events. Who knows, you might even end up creating an energy saving schedule.
Changes in Energy Schedule v1.0.1
Improved display of Power Manager queued events.
Changed font for consistency between Mac OS X 10.4 & 10.5.