I will be arguing the benefits of laziness at Victoria's Mac User Group (iMUG) in a couple of weeks.
I will discuss how laziness has affected the design of Mac OS X, and how laziness influences the design decisions behind DssW Power Manager.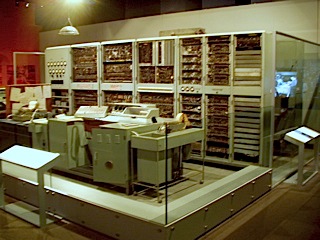 CSIRAC – Australia's First Computer, Melbourne Museum
It will be fun to brush up on my public speaking skills, share some stories of those who have shaped Mac OS X, and get the chance to meet you in person.
The meeting is free and open to the public.
Thanks to iMUG's president, Les Posen, for the invitation to speak.
iMUG talk essentials.
Who
Graham Miln, Director of DssW
What
Talking about Mac's Lazy Design at iMUG
When
6:30pm - 9pm, Tuesday 27 May 2008
Price
Free
Where
Ross House, Level 4, 247 Flinders Lane, Melbourne (between Swanston & Degraves Streets).

If an usher is not at the door to let you in, press the intercom button marked Floor 4 Front (not Rear).