DssW Featured in PC Power Management Report
Thanks to Andrew Donoghue, Analyst at The 451 Group, for featuring DssW and our energy saving software, Power Manager, in their latest Eco-Efficient IT report.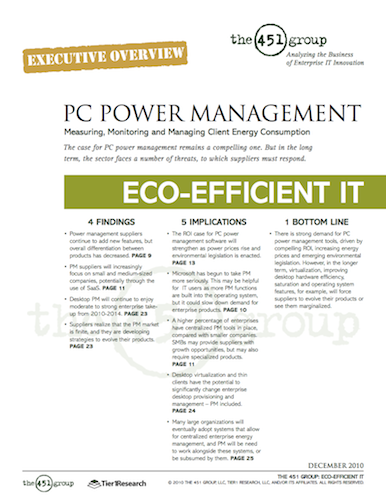 "The past 36 months have witnessed a significant expansion in the number of suppliers offering PM products. Concurrently, the overall differentiation between products has decreased as suppliers learn from one another. This report examines the market for desktop power management products, including the technology currently available, adoption trends and user behavior, and the future direction of the market, as well as profiles of 19 prominent vendors." – PC Power Management; Measuring, Monitoring and Managing Client Energy Consumption
The report is available for 3750 USD from The 451 Group; an overview document (PDF) is also available.