We are pleased to announce the launch of Power Manager 4.2. This release introduces a new user interface and says goodbye to the need for restarting after installing, updating, or removing the scheduler.
Thank you to everyone who downloaded and tried the previews of Power Manager 4.2. Your comments and feedback were helpful and allowed us to fine tune the transition from an Installer packaged distribution to an application based approach.
Updating Power Manager
Power Manager will automatically check for updates every so often, so there is nothing to do. The update will automatically be offered to you during the next few weeks.
If you want to update to the latest Power Manager now, use the built-in Check for Updates… option. In Power Manager, use the version pop-up in the lower-right of the window.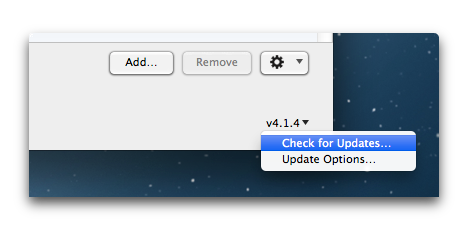 Changes in v4.2.0
New: Installation and removal of scheduling engine no longer require a restart.
New: Added engine view to application; previously restricted to status menu and iOS app.
New: Added alert before stopping scheduler to confirm decision.
New: Added Scheduler menu to group related actions.
New: Added Action and Adjust per-event menus to manipulate events within the engine.
New: Revised application look and feel.
Change: Removed support for Mac OS X 10.6.
Change: Removed support for garbage collection in PowerManager.framework.
Change: Removed software update options; defaults remain for customisation.
Change: Moved administrator access lock to menu item.
Change: Moved allow remote management to menu item.
Change: Moved pmctl tool into Power Manager.app bundle.
Change: Added AppleScript support to Power Manager.app; removed stand alone AppleScript application.
Change: pmctl updated to include Power Manager.app/Contents/Tools/interfaces by default for interfaces
Refined: Remove item revealed in status menu, if main application is missing.
Refined: Check for Updates… menus disabled if default prohibits checking.
Refined: Updated Sparkle framework.
Refined: Added support for automatic graphics card switching.
Refined: Improved drag and drop to stack events and show item count.
API: Authorisation rights are now observable.
Bug: Fixed a bug in AppleScript that could cause a crash.
Bug: Fixed a bug in simplified notification limiting preflight checking of rights.