We are pleased to announce the launch of Power Manager and Power Manager Pro 4.5.1. This update introduces a new experimental application trigger and many interface refinements. Our work on the internal scheduling engine has continued to ensure it remains modern and efficient.
Updating Power Manager
Power Manager will automatically check for updates every so often, so there is nothing to do. The update will automatically be offered to you during the next few weeks.
If you want to update to the latest Power Manager now, use the Check for Updates… menu item in the Power Manager menu.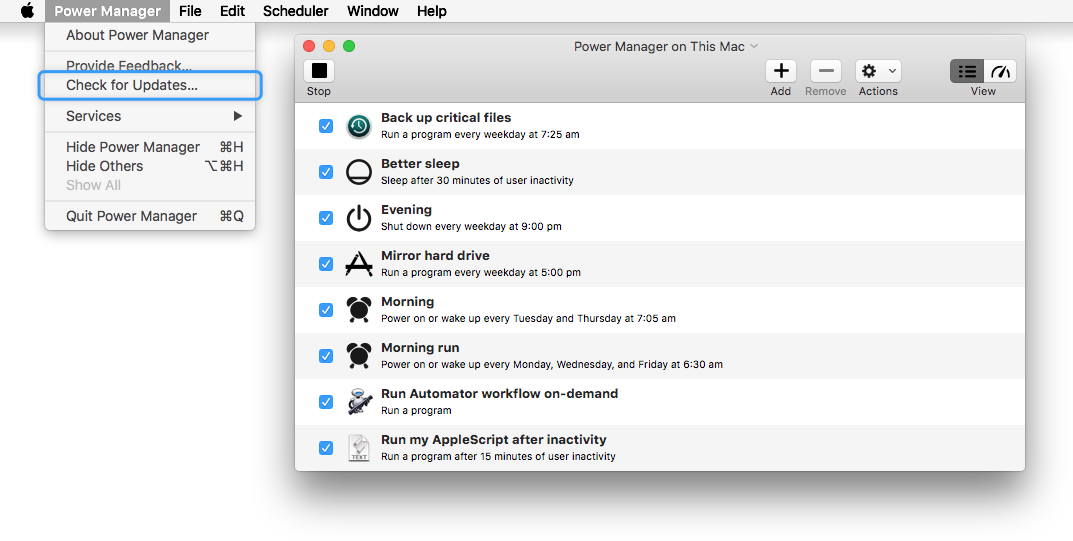 For Power Manager Professional, use the following menu item: Power Manager > Check for Updates….
Changes in v4.5.1
New: Added experimental application trigger.
New: Added time zone change support to Power Manager.app.
New: Added Spotlight support for .pm-schedule files; .pm-event already supported.
New: Added option to show full file path within Schedule Assistant.
New: Added option to use enhanced or plain script editor; default boolean colourScriptEditorSyntax.
Change: Removed /Library/Frameworks/PowerManager.framework; now embedded as needed.
Change: Updated time zone change support within the status menu bar.
Change: Supporting tool pmctl no longer requires PowerManager.framework.
Change: Supporting daemon pmuser no longer requires PowerManager.framework.
Change: Linked pmuser against AppKit for workspace notifications.
Change: Improved event summary descriptions.
Change: Reduced authorization requests needed for installation and removal of the scheduler.
Change: Updated more external links and documentation to https://.
Change: Updated AstronomicalAlgorithms framework.
Change: Updated LetsMove library.
Change: Updated Sparkle framework.
Change: Updated CodeMirror library.
Bug: Fixed a file path editor bug affecting multiple choice operations.
Bug: Fixed clicking an update notification in banner alert style.
Bug: Fixed tracking of time zone changes.