We are pleased to announce the launch of Power Manager and Power Manager Pro 4.6.1. This update improves support for macOS 10.12.4 and ends support for older versions of macOS.
Power Manager 4.6.1 requires macOS 10.10 or later.
Legacy versions of Power Manager remain available for those running macOS 10.4 – 10.9. However, we recommend updating to a more recent version of macOS. We recommend this because of security improvements made to macOS.
Updating Power Manager
Power Manager will automatically check for updates every so often, so there is nothing to do. The update will automatically be offered to you during the next few weeks.
If you want to update to the latest Power Manager now, use the Check for Updates… menu item in the Power Manager menu.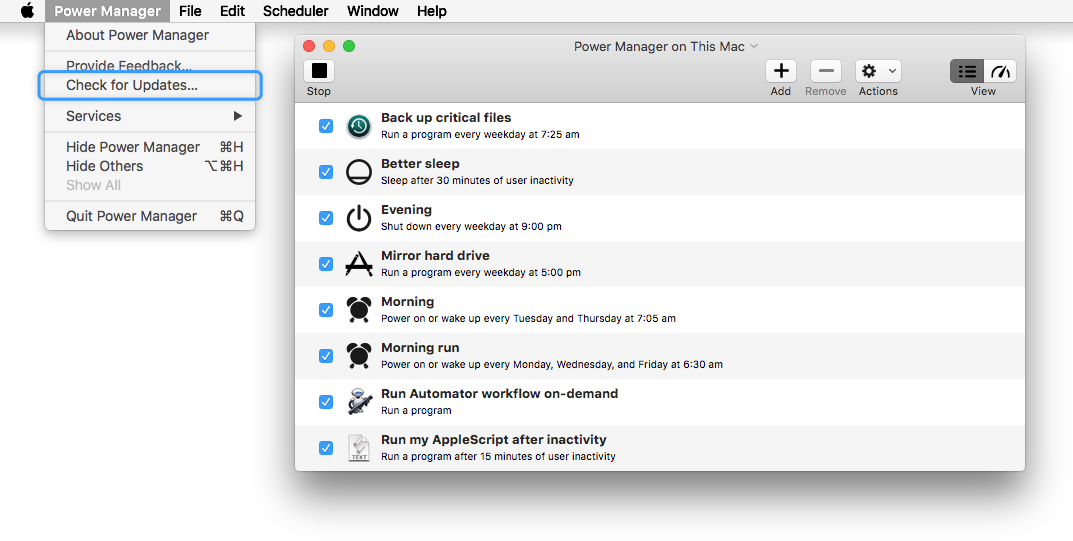 For Power Manager Professional, use the following menu item: Power Manager > Check for Updates….
Changes in v4.6.1
New: Added running and not-running example conditions to event editor.
Change: Refactored update checking in notification application.
Change: Updated administrator guide for Unified Logging.
Change: Removed support for macOS 10.7, 10.8, and 10.9; see legacy support.
Bug: Fix hardware power scheduling bug affecting macOS 10.12.4.
Bug: Fix post-adjustment double event listing affecting macOS 10.12.4.