Power Manager Remote
Automate and save energy with your Mac using your iPhone or iPod touch.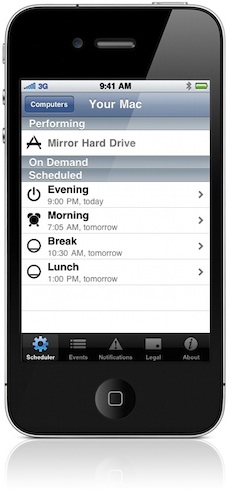 Take control of your Mac by taking your energy saving schedule with you. With Power Manager Remote you can connect and manage your Mac's energy saving schedule on the go.
Need your Mac to stay on another couple of hours? Easily view and adjust your schedule with the a tap and a swipe of your finger.
Want to trigger your back-up to start right now, but are away from your desk? Use Power Manager Remote to trigger on-demand events with a couple taps.
Power Manager's on-demand events can launch applications, open documents, and run AppleScripts. All of your events are available through Power Manager Remote.
Need to manage a few Macs? Power Manager Remote can connect to multiple Macs running Power Manager. All you need is your administrator name and password for each Mac.
Use Power Manager Remote to connect securely to your Mac via wireless and mobile networks.